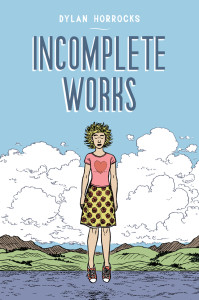 With today's New Zealand release of Incomplete Works, I have some events coming up:
Writer's Week
I'll be at the New Zealand Festival Writer's Week this weekend in Wellington, as will a bunch of amazing writers and cartoonists from New Zealand and around the world, including Alison Bechdel, who will be speaking on Sunday afternoon.
Incomplete Works book launch: Saturday 8th March, 7.30pm at the Exchange Atrium (24 Blair Street), as part of the Victoria University Press Publisher's Party. Also launching is Gathering Evidence by Caoilinn Hughes, and plenty of VUP authors will be joining the party. It's a free event and everyone's welcome.
Comicsville panel discussion: Monday 10th March, 10.45am at the Hannah Playhouse (formerly Downstage Theatre), in which I'll be chatting about New Zealand comics with Robyn Kenealy, Jonathan King and Adrian Kinnaird (whose book From Earth's End: The Best of New Zealand Comics was launched last year and tells the story of New Zealand comics over the past 100 years). Tickets are $18.
Other things happening:
I'll be chatting with Kim Hill on Radio New Zealand National's Saturday Morning tomorrow (8th March) at around 9.30am (be sure to tune in for Alison Bechdel at 9am).
I'm interviewed by Charlie Gates in this Saturday's (8th March) Your Weekend magazine (inserted into the Dominion Post, The Press and the Waikato Times). It was a fairly substantial interview, about Incomplete Works, Sam Zabel and the Magic Pen and working for DC Comics.
The NZ Listener published a 4-page excerpt from Incomplete Works (Captain Cook's Comic Cuts) in the March 1st issue. It was nice appearing in the Listener again, 17 years since I last drew Milo's Week for them.
We'll be having an event for Incomplete Works on Tuesday 1st April at 6pm at Auckland Library (Lorne St). This will be kind of a late Auckland launch party, and I'll be talking with Sarah Laing and reading a few of the comics (with pictures!).
Tags: Adrian Kinnaird, Incomplete Works, Jonathan King, Robyn Kenealy, Writer's Week