Archive for September, 2010
Saturday, September 11th, 2010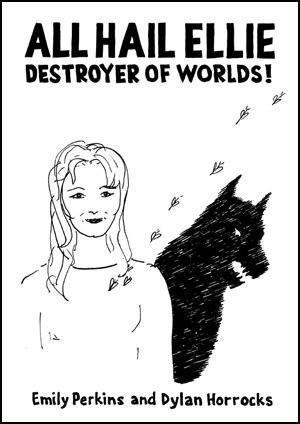 As I mentioned earlier, Emily Perkins and I have done a mini-comic together! It was done as a jam comic – I'd draw a panel and send it to Emily, then she'd draw a panel in response and send it back, and so on. After a month, we had made a 32-page mini-comic (with one big panel per page) – half of it written and drawn by Emily and half by me. It's a conversation between us, in words and pictures, about writing, stories, art, reality and – er – monsters.
We presented it at The Orcon Great Blend 2010 in Auckland on September 10th (a wonderful event put together by Public Address, Orcon and The Edge), reading it live while the pictures were projected behind us, which was almost as much fun as making the thing in the first place. About a hundred copies sold on the night (thanks everyone!!), but I still have copies left if you want to buy one.
If you want to pay using paypal, use the buttons below (make sure you hit the correct one!).
Or if you prefer to pay via online banking, cheque, or some more mysterious method, email me with a request and I'll reply with the details.
All Hail Ellie, Destroyer of Worlds!
by Emily Perkins and Dylan Horrocks
a 32 page black & white mini-comic (A5 size: 14.85 x 21 cm)
Price (including postage):
within New Zealand: NZD $7
to anywhere else: USD $6

Customers in New Zealand click here (NZD $7):

Customers anywhere else in the world click here (USD $6)