"Comics erode the most fundamental habits
of humane, civilized living."
Bill Pearson


April 8th, 2013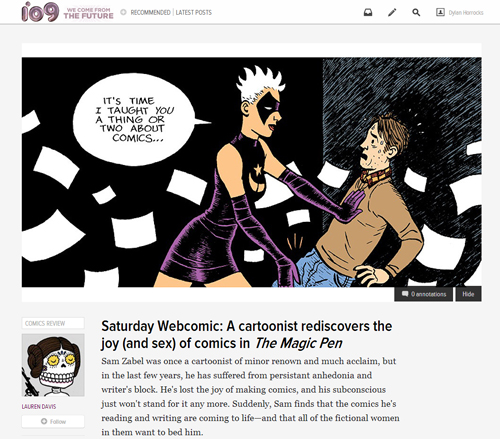 The Good News: The Magic Pen got a great write-up on io9.com on Saturday, causing hordes of keen readers to rush here eager to read it (or possibly just to look at dirty pictures).
The Bad News? This overloaded our servers and the site went into meltdown. Things are still a bit patchy, I'm afraid, but we're working on getting the site back to full health. Apologies if things are a little slow in loading, or if you get error messages instead of comics. Hopefully it will all be sorted out ASAP.
April 3rd, 2013
Here's a few more pages from Hicksville that I'm selling at half price, while I work at getting my online shop set up: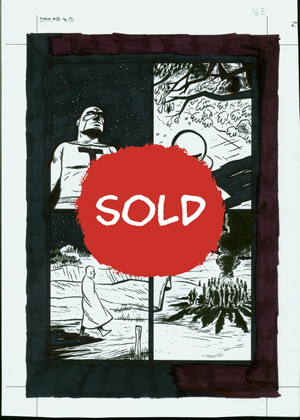 CLICK IMAGE FOR LARGER VIEW
Hicksville page 163:
Leonard walking to the Hogan's Alley Day party, dressed as Captain Tomorrow. Highlights include: some clumsy drawing, lots of stars in the night sky (each one drawn with white-out and then touched up with ink), more white-out in panels 2 and 3 (where the drawing was even clumsier than usual), a general air of mystery.
Hicksville page 163
(marker pen & white-out on ivory board)
420mm x 299mm, 16.5 x 11.8 inches
US $ 79
(including postage)
SORRY – SOLD
(Click through to see more pages)
Read the rest of this entry »