February 12th, 2009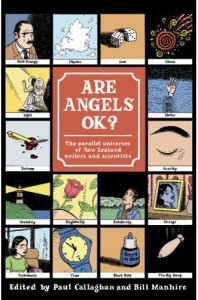 This story was drawn for a wonderful New Zealand book, Are Angels OK? The Parallel Universes of New Zealand Writers and Scientists, edited by Paul Callaghan and Bill Manhire, and published in 2006 by Victoria University Press.
Are Angels OK? was a project put together by Paul and Bill to mark the World Year of Physics in 2005 (which was the centenary of Einstein's Special Theory of Relativity, in case you're wondering). The basic idea was to get a bunch of NZ writers to sit down with NZ physicists and just talk about whatever took their fancy. The nature of these conversations was totally undefined; the one requirement was that each writer would then produce a new piece of work, to be collected in the book.
I was assigned three physicists from the University of Auckland, two of whom I ended up having some totally mind-blowing discussions with: Professor Geoff Austin (who among other things is an expert on the physics of clouds) and Associate-Professor Matthew Collett (who, in addition to experimenting with light teleportation, is an active Catholic and a tabletop wargamer). I also read a heap of books on relativity, quantum physics and the relationship between science and art. For the better part of a year, I was thoroughly immersed in physics – a subject I've always had a passing interest in, but never had a reason to study more closely.
Along the way, a strange thing happened. At first, I thought I'd do a story about clouds, making use of Professor Austin's expertise in the field, and tying it all to Atlas, which partly revolves around the notion of trying to map the sky. And we did talk about this for a while – and I wrote copious notes on the subject. Geoff was a very cool guy to talk to – a scientist who once worked for NASA, flies bi-planes, has travelled all over the world and even has one of those groovy radar vans that storm-chasers park in the path of tornadoes and cyclones. But the two things that really stayed with me, and ended up affecting my world view even more deeply than the weirdness of relativity, were Geoff's offhand remark that he loathed the fantasy genre (on account of its total disregard for the laws of physics) and the time we went to the art gallery together.
The art gallery visit was Geoff's idea. Turns out he also paints in his spare time (no doubt a lot better than I do!), and he's always been interested in the way artists depict clouds and skyscapes. As a physicist with a deep understanding of the inner processes that shape cumulonimbus clouds, he can't help but assess the accuracy of a painted rainstorm. It just so happened the Auckland City Art Gallery was hosting an exhibition of landscapes by William Hodges (a British artist who accompanied Captain Cook on his first voyage to New Zealand), including one of Geoff's favourites, a dramatic painting of a waterspout off Cape Stephens. As we walked around the gallery together, I listened to Geoff talking about why this or that skyscape was credible or not, which clouds could never have existed in reality, and which were clearly sketched from life. And I knew there and then I would never have the courage to show him my own drawings of the sky…
Meanwhile, my one long, indepth conversation with Professor Collett ranged all over the bizarre interface of quantum and classical physics, the apparent magic of quantum entanglement and simultaneity, and more. But, again, it was unexpected details that stuck in my head: our brief discussion about the role of dice in wargames, and Professor Collett's apparently genuine Christian faith. The latter set me off on a long exploration of the relationship between science and religion, which in turn got me thinking about the way art has replaced religion for many people, as a means to give 'meaning' and 'meta-narrative' to the world.
All this coincided with one of the darkest periods of my life as a cartoonist – a time when I had lost faith in stories and art and could no longer enjoy either. In a sense, I suppose I was having a spiritual crisis – a funny feeling for a lifelong atheist. But like I say, in these secular times, many people fill the hole with art – a strategy that simply wasn't working for me any more. A significant moment came when I took a book about UFOs out of the library (as light relief from all the heavy science I was reading). And buried in there was a line that summed a lot of things up for me. The author (a religious studies scholar) quoted a journal article on the subject of pseudoscience and the motives of those who promote it: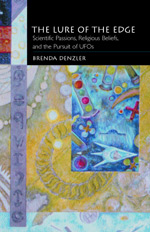 Their work… might be interpreted as efforts to re-enchant the world through science. They would bring back into science's ken the monsters, giants, wee people, dread cataclysms… that once upon a time were exorcised from science and by science. There is, in other words, a fascinating apparent effort to be "for" science and yet, at the same time, against its "impoverishing" impact on our modern world view.

Lyell Henry, quoted in Brenda Dazler, The Lure of the Edge: Scientific Passions, Religious Beliefs and the Pursuit of UFOs.
That phrase "…to re-enchant the world" went off in my head like a supernova. That's what art tries to do, I thought – or at least, that's what I'd been using art to do, before my crisis of faith. I've always been obsessed with fantasy and magic – always looking for another novel that would have the same effect on me that Tolkien had when I was 12; spending years of my life immersed in fantasy role-playing games, in search of that spine-tingling feeling of really being in another world, another reality… Even so-called 'literary fiction' is trying to create an alternative version of reality, one in which everything is saturated with meaning, with significance, with beauty or power.
Unfortunately, I'd lost the ability to suspend my disbelief. I no longer believed in enchantment; the world has no meta-narrative, no meaning, no innate beauty or magic. There's only the myths we tell ourselves in an effort to make it seem as though such things really exist. As Nietzsche grimly put it: "Truth is ugly. We possess art lest we perish of the truth."
Ouch!
Anyway, by now, all thought of a nice story exploring the physics of clouds was long gone. I needed to do a story about art and fantasy, science and reality. And so I went back to the moments in my discussions with Professors Austin and Collett that haunted me most: Geoff's rejection of fantasy and his critical analysis of William Hodge's clouds; Professor Collett's religous faith and our shared interest in simulation games. And somehow, I ended up doing a comic about D&D…