February 2nd, 2009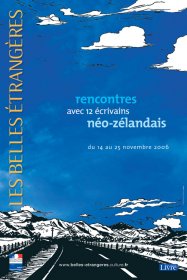 Siso was written and drawn in 2005-6, and first appeared in French, in Douze Écrivains Néo-Zélandais (Twelve New Zealand Writers), published as part of Les Belles Étrangères, one of those fabulous literary festivals only France could make up. Every year, Les Belles Étrangères brings 12 writers from one country to France, tours them around giving talks and readings, wines and dines them, and generally makes a glorious fuss of them. 2006 was New Zealand's turn to be fêted, and I was lucky enough to be one of the invitees.
A documentary film was also made, featuring interviews with all 12 writers, which can be watched (or downloaded) here.
By the way, the characters on this page (and the last page) were all borrowed from a wonderful New Zealand children's comic drawn (I think) in the 1950s called Tiny Folks. Cartoonist and historian Tim Bollinger included a couple of copies of these in an exhibition he put together for the New Zealand Independent Comics Festival in 2005, and I was utterly smitten.