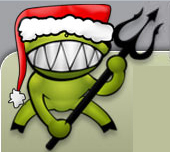 I've just had this pointed out to me: a torrent on Demonoid with all 10 issues of Pickle, the comic book I did in the 1990s (published by Black Eye).
I am, of course, delighted, and wish to thank whoever uploaded it (not to mention whoever went to all the trouble of scanning it in the first place!).
Just remember to seed, folks…
Update 1: Andrew Dubber has kindly made those Pickle issues available via Rapidshare (in case you don't have a Demonoid account).
Update 2: Because people have been asking, here are some ways you can buy my books and/or help feed my kids, if you feel compelled to do so:
You can buy Hicksville here from Drawn & Quarterly.
Or you can buy Hicksville here from Amazon.
Or you can leave a tip (via Paypal) in my Tip Jar.