Like many people, I've been following the extraordinary events in Egypt via a range of sources, including Al Jazeera and Twitter. One of the biggest revelations – for me, anyway – has been the way Twitter offers a chance to follow the thoughts and comments of people in the thick of things on the other side of the world.
So yesterday (February 8th), I was following various Egyptians' reactions to the emotionally-charged interview with Waed Ghonim on Dream TV. And two tweets from Pakinam Amer, an Egyptian journalist and blogger, stood out to my nerdy eye: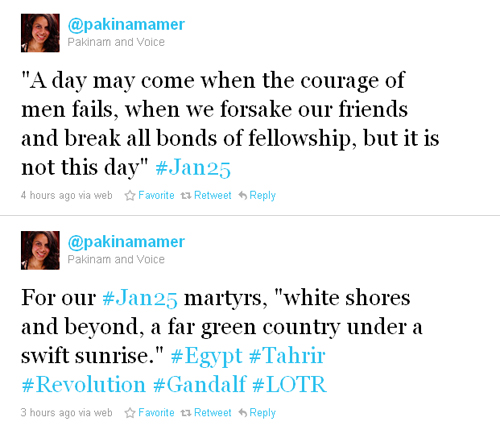 A quote from the Koran? Words of inspiration from some great Arab political leader? Nah. The first is a line from Aragorn; the second from Gandalf. Somewhere in Cairo, this young Egyptian journalist had turned to Lord of the Rings for comfort and inspiration.

So, of course, I retweeted her message, partly to point out the disconnect between what I was seeing on Twitter, on blogs, in interviews and in photos from Tahrir Square, and what various commentators were claiming on American television and in the right wing press: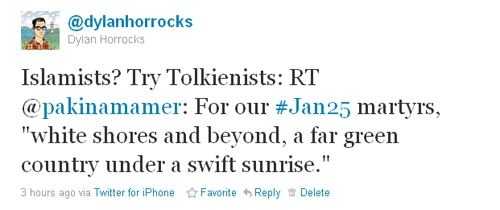 A few minutes later, I had a response from Pakinam herself: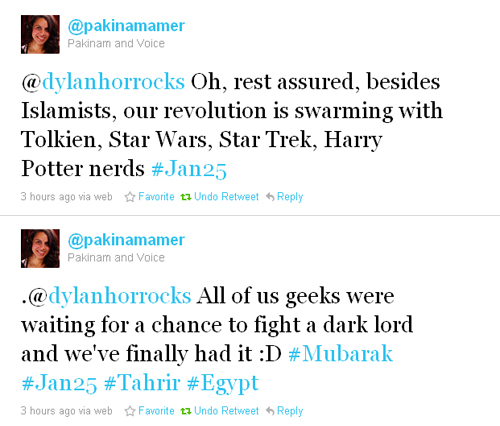 So, of course, what else could I say?
Why am I sharing this with you? Well, because I reckon Pakinam is pretty damn cool. She's one of a new wave of smart, young, brave and net-savvy Arab journalists who write for independent newspapers like Al-Masry Al-Youm; she blogs and tweets about The IT Crowd, V For Vendetta and Harry Potter; she's into The Little Prince and is a self-described comic book nerd – and she's putting her life on the line in the name of basic human rights and freedoms.
And also to illustrate a few things about what's going on in Egypt, and the way the internet is connecting people in all kinds of exciting new ways. I started to write a long post about Malcolm Gladwell, the impact of social media and the importance of global nerd culture. But you know what? I think you're all smart enough to work it out for yourselves.
So here's to Pakinam and the Fellowship of Tahrir. From one nerd to another, I salute you.
P.S. Pakinam has asked people to contribute art (drawings, songs, photography, etc) inspired by or responding to the Egyptian revolution for an online collection. Click here for details on how to contribute creative work.
P.P.S. Also, Here's a fascinating Al Jazeera documentary about Egyptian activist-bloggers. And here's a cartoon by one of my favourite political cartoonists, Mr. Fish, being held aloft in Cairo.
P.P.P.S. Sorry the latest Magic Pen page is taking a while. It's an important moment in the story, and it's proving to be one of those pages that take ages to get right.
Tags: egypt, lord of the rings, Pakinam Amer, twitter