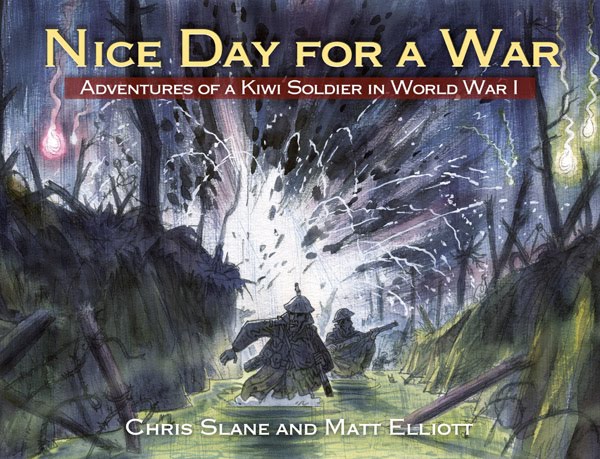 The mighty Chris Slane, one of New Zealand's greatest cartoonists, is launching his new graphic novel tonight in Auckland. Nice Day for a War – Adventures of A Kiwi Soldier In World War 1 by Chris Slane and Matt Elliott recreates the experiences of Matt's grandfather Corporal Cyril Elliott, who enlisted as a teenager and soon found himself struggling to survive in the trenches of the Western Front. The book is part graphic novel, part illustrated history book – and 100% pure Chris Slane greatness.
Those of you who remember Chris' earlier graphic novel, Maui: Legends of the Outcast (written by Robert Sullivan), or his many other great comics, will know that this is an event worth celebrating.
So come along to the Grey Lynn RSA tonight, pick up a signed copy and toast Chris and Matt (you can even buy an ANZAC Day poppy).
Nice Day for a War – the Adventures of a Kiwi Soldier in World War 1
by Chris Slane and Matt Elliott

6.00-8.00pm Thursday 7 April

Grey Lynn (RSA) Returned services Social Club upstairs.
(Kids allowed upstairs)
1 Francis Street, West Lynn shops, Grey Lynn/Westmere, Auckland.
(50 steps from Moa, and Harvest Wholefoods)
Click here for map
Enter main door, turn left and follow the chair lift rail up the stairs to the cosy lounge bar.
Even if you can't make it tonight, you can buy Nice Day for a War from good NZ booksellers everywhere, or online.
Tags: book launch, chris slane, nice day for a war