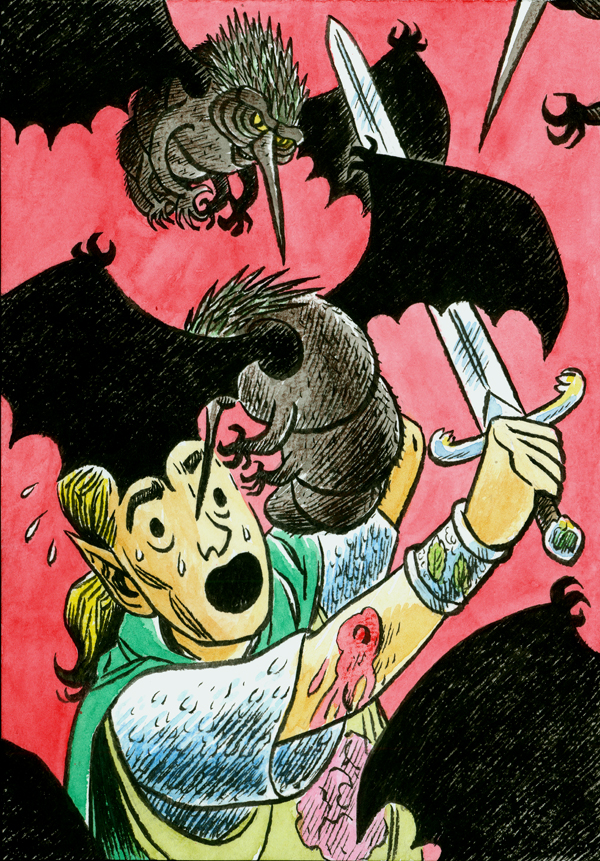 CLICK IMAGE FOR LARGER VIEW
This week for my morning sketches, I'm drawing creatures from the 1st edition Advanced Dungeons & Dragons Monster Manual (1977) – one of the first role-playing game books I ever owned.
First up is a monster I've always found especially terrifying (despite its low level): the Stirge. They usually attack in groups (of 3-30) and, as the Monster Manual explains, "they lay in wait for warm-blooded creatures, swoop down, and when their long, sharp proboscis is attached, the blood of the victim is drawn through to be eaten" (shudder).
You can see the original Monster Manual illustration (by David C. Sutherland III) of the Stirge (along with later versions) at Bogleech.
BUY THIS SKETCH
Stirges
(ink, watercolour & coloured pencil on 300gsm paper)
A5 (148 x 210mm, 5.7 x 8.3 inches)

US $ 60 (+$5 postage)