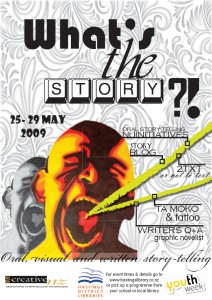 I'm going to be giving some talks and workshops in Hastings next week, as part of their Youth Week storytelling festival:
What's the Story?
Oral, visual and written story-telling

Youth Week 25 – 29 May 2009

"Storytelling is a common form of communication that people engage in, using different channels, nearly every day. It is sharing a tale of experiences, either real or imaginary" – Marsh Cassidy
I'm doing three public sessions:
Writers Q & A
- An interactive writers and illustrators Talk with Anna Mackenzie and Dylan Horrocks

Wednesday 27 May
Flaxmere Library – 10.00am
Havelock North Library – 1.30pm

Thursday 28 May
Hastings Central Library – 10.00am

Award winning Young Adult novelist Anna Mackenzie talks about what led her to writing fiction. Currently writing for a young adult audience, Mackenzie says she remains fascinated by the intensity and challenges of the teenage years.

Comics, graphic novels and manga are increasingly popular all over the world. Cartoonist Dylan Horrocks, whose work has been published in books and magazines around the world, introduces this incredibly diverse and expanding medium, and invites you to give comics a try.

Contact: Carla Crosbie 8715180 carlac@hdc.govt.nz (Hastings Library)

Sue Pike suep@hdc.govt.nz (Flaxmere and Havelock North Libraries)
Other events include an interactive story blog, sessions on Ta Moko (tattooing) and oral storytelling, and a workshop and discussion about the rise and rise of TXT language. So if you're in the area, come along!