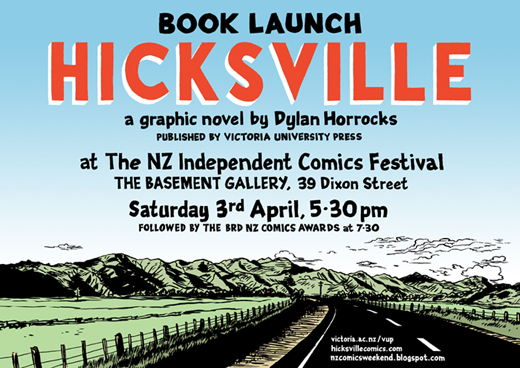 Yes, we're doing it all again – this time in Wellington! Victoria University Press are launching the NZ edition of Hicksville on Saturday 3rd April, at 5.30pm, at the NZ Independent Comics Festival, in the Basement Gallery, 39 Dixon St.
Come along and enjoy the festivities, and then stay on for the Black River Digital NZ Comics Awards (aka "the Erics") at 7.30pm!
I will be in Wellington all weekend, by the way, dividing my time between the Armageddon Expo and the NZ Comics Festival. My plan is to be at Armageddon on Friday 12-5pm and on Saturday and Sunday 1-3pm, at the NZ Comics Collective table. The rest of the time, I'll mostly be at the NZ Comics Festival at the Basement Gallery in Dixon St. At both venues, there will be copies of the new edition of Hicksville, as well as original artwork for sale (or just for perusing and spilling drinks over).
I look forward to seeing y'all there!