Two sketches today. Bear with me…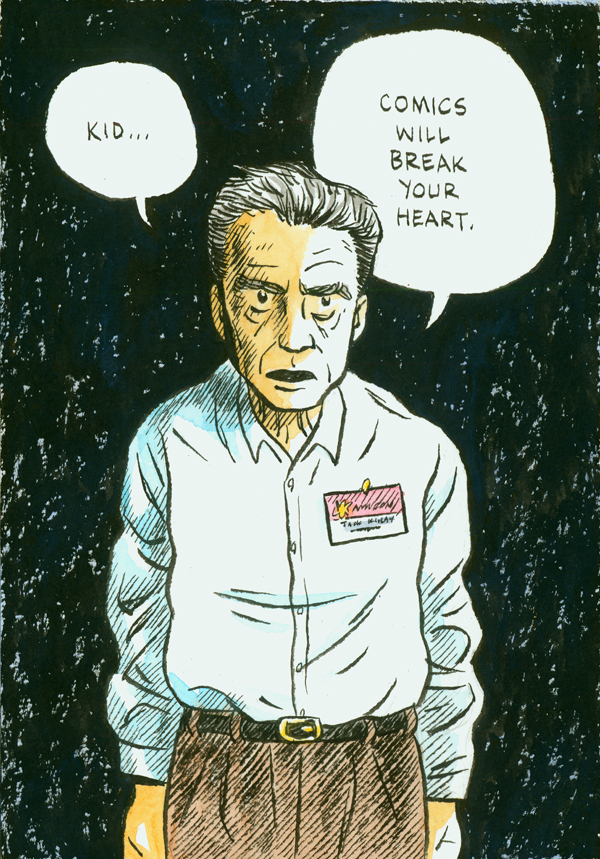 Jack Kirby

(Jacob Kurtzberg, USA, 1917-1994)
Comics Will Break Your Heart
(pencil & watercolour on 300gsm paper)
A5 (148 x 210mm, 5.7 x 8.3 inches)

US $ 50 (+$5 postage)
This sketch tells the story behind the quote that opens Hicksville. It was told to me by James Romberger, an artist and cartoonist whose amazing graphic novel Seven Miles a Second (written by activist and artist David Wojnarowicz) has just been reissued by Fantagraphics.
In the 1980s, Romberger met Kirby at a convention in New York. Kirby kindly looked at Romberger's work and then gave him a piece of advice: "Kid, you're one of the best. But put your work in galleries. Don't do comics. Comics will break your heart."
Romberger followed Kirby's advice for years, mostly exhibiting in galleries, while drawing comics for alternative and literary magazines – and occasionally for commercial publishers – on the side. When the first edition of Seven Miles a Second was published by Vertigo in 1996, Romberger mentioned in his artist's bio that he'd once been told by Jack Kirby "comics will break your heart." As soon as I read that, I knew I would have to use it in Hicksville. I'm grateful to Romberger for later sharing the full story with me and I urge you all to buy his & Wojnarowicz's extraordinary book.
Anyway, after drawing this sketch, I felt so sad I had to draw Kirby again – but this time the young Kirby, on the eve of World War Two, when American comic books were new and he was one of the people carving its mythology out of nothing, at the beginning of his extraordinary career. So here he is…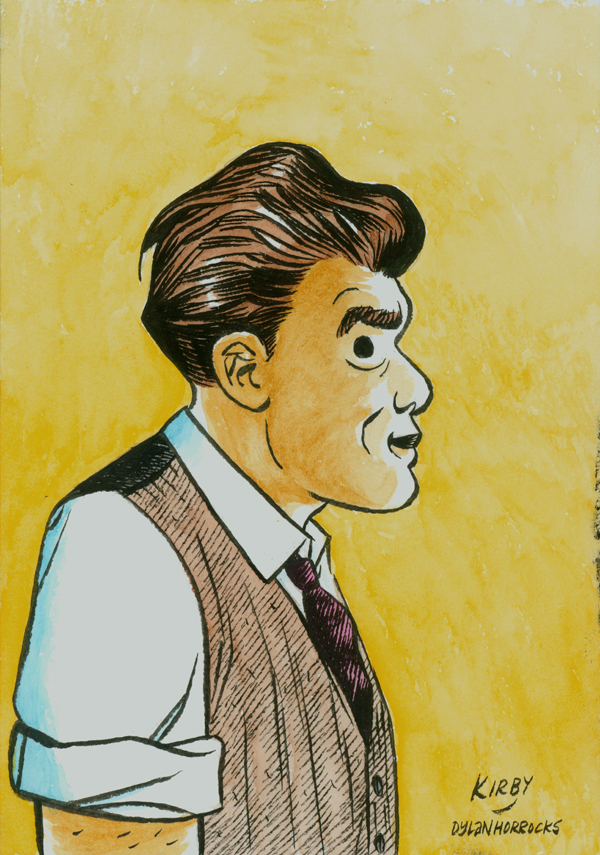 Young Kirby
(pencil & watercolour on 300gsm paper)
A5 (148 x 210mm, 5.7 x 8.3 inches)

US $ 50 (+$5 postage)
There you have it. Having done two today, I'll probably take a break over the weekend and return with more sketches next week (and, hopefully, some new Magic Pen pages too).