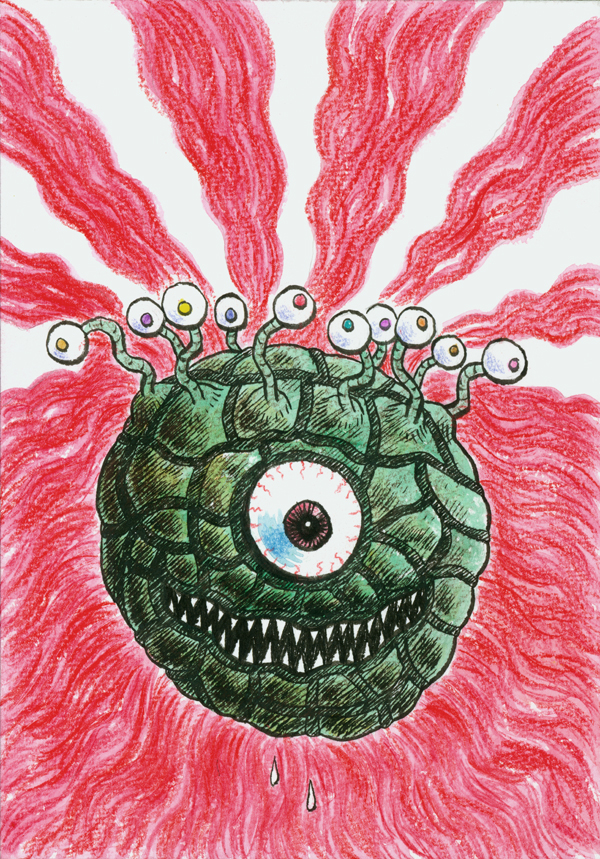 CLICK IMAGE FOR LARGER VIEW
Today's 1st Edition Advanced Dungeons & Dragons Monster Manual sketch is the terrifying Beholder (the Eye Tyrant, the Sphere of Many Eyes)!
To be honest, I always found the Beholder more ridiculous than terrifying – but that's probably because I don't remember ever actually encountering one in the heat of battle. Their multiple eye stalks may look silly, but each one packs a fearsome power: from Charm Person to Disintergrate and even a Death Ray. As the Monster Manual says, "the beholder is hateful, aggressive, and avaricious." In short: avoid.
You can see the original Monster Manual Beholder illustration (by Tom Wham) – along with some later versions – here.
The Beholder
(ink, watercolour & coloured pencil on 300gsm paper)
A5 (148 x 210mm, 5.7 x 8.3 inches)

US $ 60 (+$5 postage)
SORRY – SOLD